We Are In Need of Dedicated CAPTCHA Encoders

Your job is to resolve or retype the picture content into the input field in English. English alphabet knowledge is required. Your payment per 1000 correct inputs ranges from Php18.00 to Php60.00 through your GCash, Smart Money, or Unionbank or $0.45 to $1.50 through WebMoney, PerfectMoney, or PayPal account.
For Pixprofit members your rate depends on your priority level except during hours 7 pm to 3 am GMT or 1 am to 11 am Philippine Time when you can get a fixed rate of $0.001 per a picture. On the other hand, like Protypers, your payment rate depends on the time you work, based on Qlinkgroup's newly implemented hourly rates system. As well as Fasttypers and Captchatypers, pay rate varies by hours.

You are limited by your typing speed only. You will be given multiple accounts if you want to. You can proceed up to twelve captchas per minute if you are a fast typist so your earnings can grow up to Php260.00 or $6.50 per 6 hours continuous typing. We may provide you free software that you are going to use when you do your work, but that is just your option. We still recommend you to work using any updated web browsers (i.e. Internet Explorer, Firefox, or Chrome) for Pixprofit, Fasttypers, and to work using official software for Qlinkgroup and Captchatypers to avoid getting banned.

We also want to offer you our affiliated site - Megatypers, that pays 100% of your earnings directly to your PayPal account. You and your family members can directly register at Megatypers and can work in your own home network without any problem. More information below.

1. male or female

2. can understand English instructions
3. Facebook user

4. Google and Gmail account holder

5. can type at least 40 WPM (words per minute)

Test your typing speed here.
6. can easily recognize and resolve captcha problems in limited time (within 10 seconds)

7. can work graveyard shift between 9 pm to 11 am (+8GMT Philippine Time)
8. with or without experience

9. part time or full time basis
1. Computer with internet connection at least 1 Mbps (home, workplace, internet cafe)
No proxy server nor VPN (Private Virtual Network)
Using VPNs or proxy servers has greater chance of getting banned.
Using prepaid internet connection has greater chance of getting banned.

2. Applications, Software.
How to download and install winRAR application for free.

3. Updated Web browsers.
Mozilla Firefox
Google Chrome

4. Gmail account. Don't have a Gmail account yet? Register here.

5. Facebook account with real profile picture. Posers are not allowed!
6. Any account in the following banks like Unionbank, BPI, RCBC (MyWALLET only), Metrobank, or any virtual/electronic wallet account like Globe GCash, Smart Money, PerfectMoney, WebMoney, PayPal, or Payza that can be used as your payment processor.
FOR SERIOUS APPLICANTS ONLY!
We have the right to dismiss or terminate your account at any time, for any reason and without warning or notice. However, the dismissal or termination of an account may come as a result of the following;
Inactivity or non-use of your new account within 48 hours from the time it was approved. We may send out a courtesy e-mail for non-use before deleting or giving your account to another new hired decoder. You may CONTACT US.
Accounts not used for 30 days.

Spamming, cheating, hacking, cracking or any form of cyber-crime.
Our Affiliated CAPTCHA Site (Megatypers)


Megatypers will pay you through your PayPal, Payza, or Perfect Money account.
---
2CAPTCHA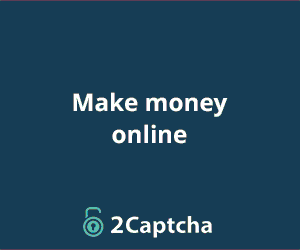 Number characters
Easy to type
WebMoney
$0.50 minimal payout
PayPal
$5.00 minimal payout
Payza
Starter accounts pay no receiving fees on up to $400 USD (or equivalent) per month, or $2000 USD altogether. For Personal and Business accounts, the fee to receive a balance payment is 2.5% + $0.25 per transaction. 1$ mimimal payout

HOW YOU GET PAID FROM Type4Cash.Webs - W.A.H.?
How to get earnings from my available balance?

To get the earnings from typer your accounts (Fasttypers, Captchatypers, Pixprofit, or Qlinkgroup), you should make a withdrawal request. Your request will be processed within 1 to 4 days. Withdrawal requests are processed manually, so please be patient while waiting for your withdrawal request completion.
1. You can request your payments anytime 24/7 when you reach the required minimum balance in your account(s). Required minimum balance varies depending on what captcha site(s) you are working with and on what payment processor you are using. Minimum required balance is posted in our site's specific pages, i.e. (Fasttypers, Captchatypers, Pixprofit, Qlinkgroup).
2. You will be paid for every earnings that reach our required minimum balance. (Fees may apply.)

3. For payments via PayPal, Payza, PerfectMoney, or WebMoney , we will send your money within 1-4 days after you requested for payment.

We will send your money in US Dollar currency only.
Local members (inside Philippines) will have no fee from their PayPal.
For international members (outside Philippines) using PayPal, fees may apply.
All payments through WebMoney have fees. Please click here for more details.
All payments through PerfectMoney have fees. Please click here for more details.

4. For BPI, BDO, Chinabank, RCBC MyWallet, Unionbank, Smart Money or GLOBE GCash payments, we will send your money within 1 to 4 days after you requested for payment.
Payment to your Unionbank account is free of charge.
For cash-out via Smart Money, a Php5.00 transaction fee will be deducted from your earnings. Effective July 15, 2012, new fee per transaction is Php5.00. Please click here for more details or here. Your Php5.00 fee serves as your "Pasa Pera Click" fee which is used to transfer your money to your Smart Money account. The bigger amount you cash-out, the bigger amount you save.
Starting August 1, 2012, GLOBE GCash phone to phone transfer fee has changed to Php10.00 for every Php1.00 - Php1,000.00 money transfer. And Php20.00 phone to phone transfer fee for Php1001.00 to Php2,000.00 money transfer (Phone to Phone). For more details, please visit this page. http://gcash.globe.com.ph/gcash/cashrates.php
UPDATE: GCash' phone to phone (P2P) transfer fee is now only 1 peso per Php100.00 increment.
Payment rate is not fixed and still subject for change depending on the Peso - Dollar currency rate.
This website claims no ownership to the captcha sites (i.e. pixprofit, fasttypers, captchatypers, qlinkgroup, megatypers, uploadcaptcha, captchatrader) and related materials presented here through our webpages and links to third party websites. The materials and intellectual property in the Links are solely owned by the authors of such unless otherwise stated. By reading this, you are acknowledging this disclaimer. If you have a problem or a question with this site, any content provided therein, or any Links provided thereon, or any you may contact us.
Compressed File Extractors
Download Microsoft .NET Framework 4.5
Microsoft Server
(982KB)
Please install Framework.NET 4.5 before run Captcha Software.exe
Restart your PC after installation.
Unlimited Income (FREE to Join!)